Folk singer, songwriter and educator Sally Rogers has performed from coast to coast for forty years! She has performed for audiences around the world at festivals, concerts, schools, and most any other public place you can imagine. Sally is equally talented at stirring a crowd to sing, or at using music to draw out even the shyest child in a classroom to become an active and enthusiastic participant. Widely known for her crystal clear voice, Sally accompanies herself with guitar, banjo and mountain dulcimer. Many of these instruments are used in her solo performances, as a duo with her husband Howie Bursen, with long-time buddy Claudia Schmidt, or as part of her interactive school residencies.

The Beginnings
Sally began her career as a full-time touring musician in 1979, after encouragement from Stan Rogers, the legendary Canadian singer-songwriter. That was followed by an invitation from Garrison Keillor to appear on A Prairie Home Companion. She appeared more than a dozen times on that show, which launched her performing career. Her travels have since taken her to Europe, China, Hungary and Poland, England and Scotland and all across the United States.
At the heart of Sally's work is traditional and contemporary folk music. Her music is like a quilt, made up of soul-stirring ballads, messages of hope, knee-slapping dance tunes and gentle lullabies.
As an accomplished songwriter, Sally's most beloved songs Lovely Agnes, Circle of the Sun, and What Can One Little Person Do?, have become staples in the folk world – sung in coffeehouses and kindergartens, at bedsides and campfires across the country and abroad.
Sally has performed with fellow Michigan native and long-time friend, Claudia Schmidt, since 1981. As a folk duo extraordinaire, they have recorded four albums together including Closing the Distance, While We Live, and Evidence of Happiness. In 2016, Sally and Claudia released their fourth collaborative album, We are Welcomed.
Although they have been performing together steadily since they met, they have ramped up their touring and are available for performances across the country. Check the event calendar for upcoming performances.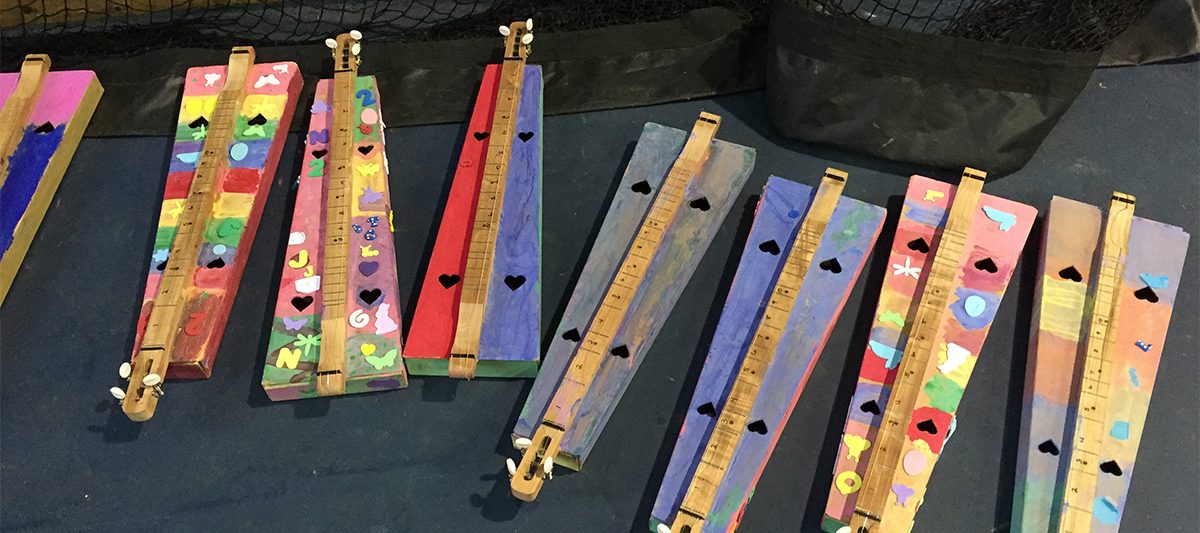 Music Educator
From 2001-2010, Sally Rogers' day job was Pre-K through Grade 4 music educator at Pomfret Community School in Pomfret, CT. From invigorating morning sings to the annual Cultural Arts program she personally developed, Sally devoted herself to her students with the goal of bringing new meaning and depth to the curriculum through arts-based learning. With over 25 year's experience, Sally is a firm believer in integrating curriculum through the arts.
A one-of-a-kind music teacher, Sally's enthusiasm, energy and passion for learning is a breath of fresh air for both students and faculty.
From 2011-16, Rogers taught music at the Pioneer Valley Chinese Immersion Charter School in South Hadley, MA. She had second graders writing operas based on Chinese folktales and led an after-school chorus which sang at the Kennedy Library for Massachusetts' teachers. They also sang the National Anthem for the Springfield, MA Thunderbirds hockey team – a once in a lifetime achievement!
Today you can find Sally helping students young and old discover their own creativity and musical genius through songwriting residencies that last anywhere from one to ten days. Residencies can pertain to any area of the curriculum. Popular topics include Rocks and Minerals, Who is YOUR Hero?, The Science of Sound, Retelling Cinderella, and Singing History. In addition to teaching students and seniors, Sally is also engaged for professional development workshops to assist educators with arts integration in their classrooms. For more information on educational programs offered by Sally Rogers, click here.
Sally's Recordings
To date, Sally has recorded five solo albums, four children's recordings, two albums with Howie Bursen, four albums with Claudia Schmidt, and has participated in numerous other recording projects. Her most recent collaborative album, We are Welcomed, was released in 2016.

Enjoy the captivating sound and energy of Sally Rogers!
Book Award-Winning Folk Musician & Children's Educator Sally Rogers Today
Sally Rogers is currently booking for music concerts and educational programs for children, seniors and teaching staff. Click the links below to get started.